Editor's note:- If you have mild ADHD and are looking for ADHD meds, we recommend checking out natural/over the counter ADHD supplements like MindLabPro  and Brain Pill. Checkout full list of otc Adderall alternatives.
---
If you've ever searched online trying to find out why you find it hard to concentrate and get the things done that you know you need to, you've seen ADHD (Attention deficit hyperactivity disorder) talked about as a common perpetrator. Not everyone has it, needless to say, but it's an exceptionally serious issue that impacts people of all age groups.
According to the CDC, 9.4% of children have been diagnosed with ADHD, and that number seems to rise each year. The figure is reported at 4.4% for adults – a figure thought to be grossly underreported, since about 85% of people carry it on with them into adulthood.
The kicker? Only 10.9% of adults with ADHD receive the treatment they need, according to the American Journal of Psychiatry. 
Tech startups are giving ADHD the attention it deserves.
Depending on how deep your search for a solution has gone, you may have heard of some new, venture-backed startups that have sprouted up recently to address this problem. One of them, called Ahead, is aiming to revamp the mental healthcare system by treating adults with ADHD, anxiety, and depression via a completely modernized experience.
Ahead has started advertising their "online ADHD diagnosis and treatment" service, whereby they connect those in need with psychiatrists who work closely to — you guessed it — diagnose the most common mental illnesses among adults all over the US. You may have even seen some of their ads while scrolling through Instagram. I know I did. Often.
Their ads touch on how Ahead can provide ADHD diagnostics and prescriptions to those in need, without ever having to leave the house. Pretty timely, considering everyone's quarantined in their homes at the time of writing this, but it also took me by surprise. How could they do this, legally? Treatment for ADHD typically includes prescribing controlled substances, like Adderall and Vyvanse… so how could this team of clinicians and techies make it happen, legally?
How does Hello Ahead's ADHD treatment work?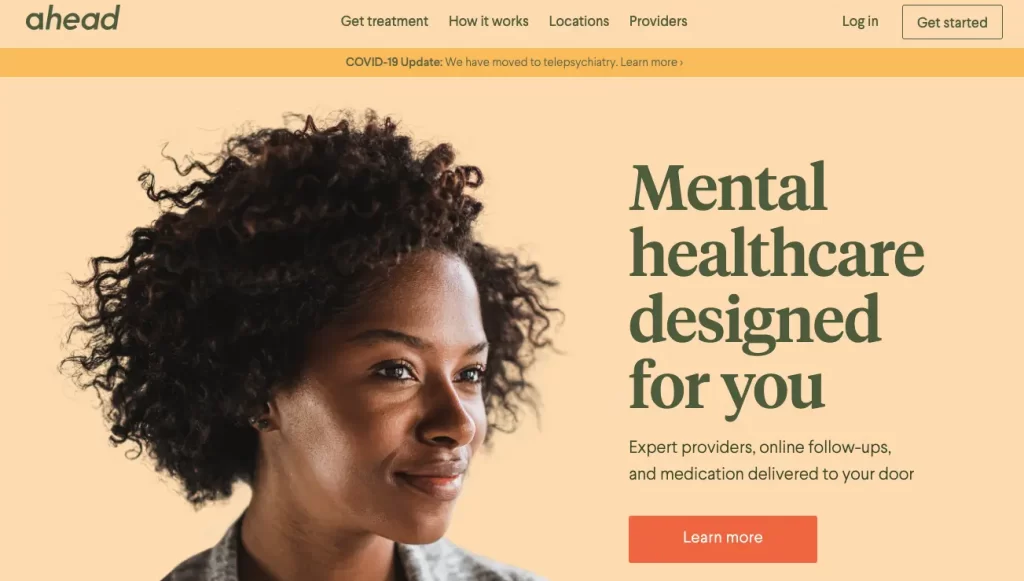 Adderall and similar stimulants can cause addiction in some people and are therefore kept under serious lock-and-key by the DEA. So how could a company go about prescribing online ADHD medications and delivering them to your home? I jumped on their website to see how, exactly, their business works. And it's pretty simple, actually.
Start off by filling out a ten minute online questionnaire to share your history and get set up with a diagnostic appointment with a board-certified health provider. You can do this part from the comfort of your own home.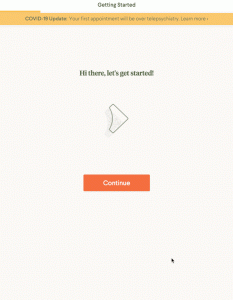 If you're a good fit, you'll meet with one of their expert clinicians for a 60-75 minute health diagnosis in one of their clinics*. If they deem that an ADHD prescription could, in fact, help you out, this is also when they'd prescribe you one.
All set, prescription-wise! You'll get free, at-home delivery within 1-2 days. (Comin' for ya, Amazon!) It comes in discreet packaging and does require a signature (which makes sense, given the nature of these drugs).
Follow-up appointments and sessions can be done anytime, online or at one of their brick-and-mortar Ahead clinics. These cost less than the initial 60-75 minute session and are not necessary.
*Note that for as long as the HHS deems we are in a Public Health Emergency, your first visit will be done virtually. Later on, your insurance (if you have insurance) may request that you meet with one of Ahead's doctors at a physical location for one of your sessions. To read more, check out their COVID-19 update here. 
Which prescriptions does Ahead offer for ADHD, anxiety, and depression?
The question everyone's probably asking right now: Can Ahead prescribe Adderall? 
The answer is yes, Ahead can prescribe Adderall when it makes sense to. It's actually one of the more commonly prescribed drugs out there to treat ADHD. But signing up for Ahead doesn't guarantee that you'll be prescribed Adderall. Just because you may have heard that it's an effective treatment does NOT mean that it's some one-size-fits-all solution.
Meet with your doctor, discuss your symptoms and any pre-existing conditions, and they'll make a diagnosis they believe is best fit for you. Trust the process!
Moving on… take a look at some other medications that Ahead common prescribes to their patients: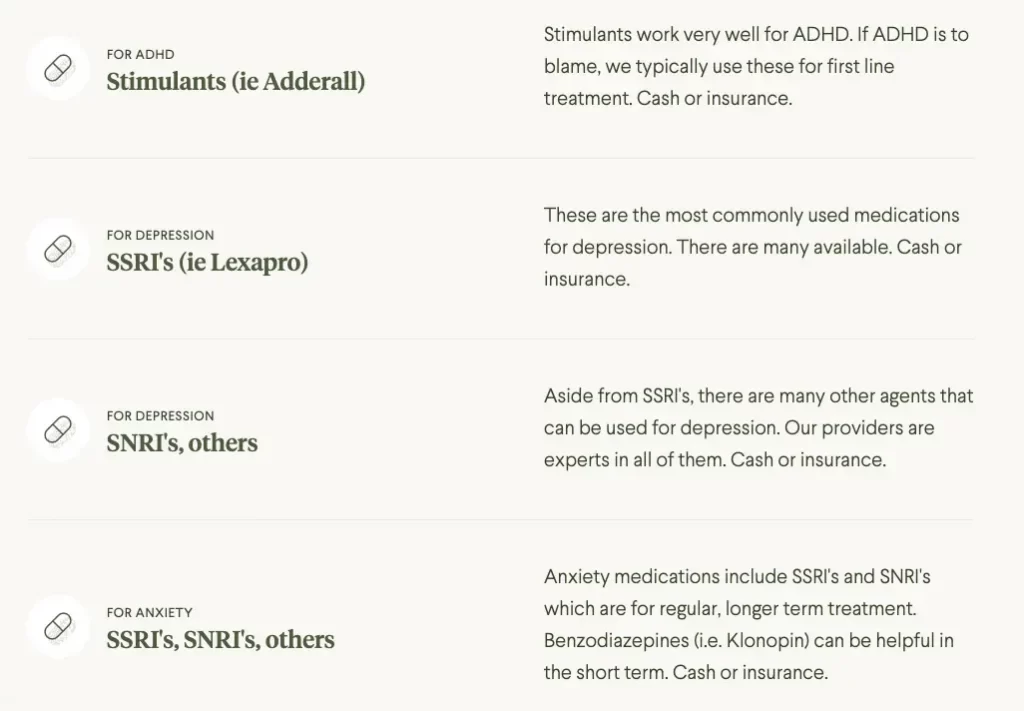 Ahead really pushes the fact that they offer virtual treatment and therapy for ADHD, but as I mentioned before, they can also help you out with anxiety and depression.
As a treatment for ADHD, their doctors will typically offer stimulants like Adderall, Vyvanse, or Mydayis. These are some of the most commonly prescribed medications for ADHD in the US, so not too much of a surprise here. But cool that they're able to do this.
They do mention that they may prescribe other medications besides these, but they don't go into detail on what else or why. My guess would be non-stimulants for those who suffer from heart conditions or addiction, or for those who have previously tried the aforementioned three medications and saw poor results. But that's a question better geared toward your clinician – not an average Joe like me.
And how about depression? Well, Ahead generally prescribes SSRIs (like Lexapro or Prozac) or SNRIs (like Cymbalta). Finding the right treatment for depression can be a tricky game and involves a lot of trial and error. So that, in my mind, is where the ability to meet with your doctor virtually is so handy.
Lastly, their treatment options for anxiety are very similar to what they'd suggest for depression. No surprise here — this is also the case with any other psychiatrist you'd see in person. And benzodiazepines like Klonopin may be prescribed to help in the short term, if necessary.
Can you use insurance to pay for Ahead?
Yes and no.
You can use either insurance or cash to pay for any medication that your clinician prescribes you. The good news is, your copay will be the same as it would be with any other pharmacy you'd use. The price of ADHD medications generally ranges from $30 to about $80 per month, depending on which medication you are prescribed and at what dosage. Your insurance plan and benefits also impact this, but that's the ballpark you're looking at.
It might be worth noting that some medications, like vyvanse and mydayis, are just too expensive for cash payments so you'll want insurance to pay for those.
On the other hand, you can't pay for any of your doctor visits with your insurance. They can, however, provide you a superbill which you can submit to insurance for out-of-network benefits. So it's not the end of the world.
How much does Ahead ADHD cost?
The cost of being diagnosed with ADHD, and subsequently being prescribed with an appropriate medication to treat it, can vary a lot.
For starters, let's dive into the cost of ADHD testing. Research done by Consumer Reports found that the average price for evaluation in a "low-cost" area like Des Moines was a whopping $686. And in a high-cost area like Los Angeles, that average price more than doubled to $1,634. This 138% disparity is largely due to the changes in approaches toward ADHD testing in the two markets. And what specific expenses go into this massive cost? Well, there are all the consultations, therapy sessions, tests, follow-ups, and fees that apply.
The good news? Online options like Hello Ahead, as well as new competitors like Done ADHD, are sprouting up to not only tackle this cost issue, but also make things infinitely more convenient for patients. Compare the above costs with our pricing chart down below and very quickly you'll see why these startups are so transformative to the future of telemedicine.
As for price of prescriptions themselves: you'll pay the exact same as you would with traditional, in-person methods. Which is great news, because copays for these medications are quite low. A typical prescription of one month's worth of generic Adderall would run you about $25 from most major pharmacies, based off GoodRx data. And for both Hello Ahead and Done ADHD, that's what you'll pay.
Does Ahead operate in my state?
Ahead currently operates in 18 states throughout the US, with plans to open more. (Edit: I've been astounded to see how quickly they're expanding since originally publishing this review. If you're not on the list, check back soon!)
Arizona
California
Colorado
Florida
Illinois
Indiana*
Kentucky
Maryland
Massachusetts
Michigan
New Mexico
New York
Oregon
Pennsylvania
South Carolina
Tennessee
Texas*
Washington
*These two states currently have Primary Care Physicians, not Psychiatric Specialists. In addition to treating mild to moderate ADHD, they're also able to offer treatment beyond mental health.
What sets Ahead ADHD apart from traditional psychiatry?
A lot, actually. They're awesome. But in short:
Automated prescription delivery. If a refill becomes due while you're between doctor visits, their team will reach out to your provider to get a refill written on your behalf.
You'll also get text message reminders before this happens, so you can snooze or cancel your refill at any time.
Efficient online booking means making appointments in a breeze.
Convenient telehealth / teletherapy appointments, saving you the hassle of driving to meet with your doctor in person.
No recurring charges or appointments. If you choose not to book additional appointments after your initial one, and still want to keep your prescription active, you're good to go. Other competitors, like Done, have far less appealing price models.
Fully compliant care with HIPAA, the DEA, board of pharmacy, and the state. Phew.
Hello Ahead Review: The Verdict
While getting started with Ahead is by no means an inexpensive decision, there's really no denying the fact that they're providing amazing value. With telemedicine and teletherapy completely reshaping the way we're able to interact with physicians to get the help we need, Ahead is way ahead of the curve (hehe) when it comes to online ADHD diagnosis and treatment.
The ability to get set up with a professional, licensed clinician AND get tried-and-tested prescription medication delivered straight to your door is pretty unheard-of. Not to mention they make it super easy to do. For those who are truly searching for an answer to their inabilities to concentrate effectively and live a healthy, productive life, Ahead is a fantastic solution. And for a lot of people out there, it's actually the more cost-effective move.
And when you compare Ahead to Done ADHD (the only other player in the space that I'm aware of), Ahead wins out in both price and the quality of care their physicians put into helping you.