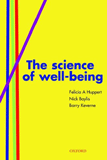 The Science of Well-Being
Oxford University Press invited Felicia Huppert, Barry Keverne and Nick Baylis to jointly produce a book on the theme of The Science of Well-Being, building on the foundations of their Royal Society Discussion Meeting of November 2003.
This Oxford book is intended for lecturers, researchers and practitioners in a broad range of scientific and social scientific disciplines, as well as for policy makers. It contains some outstanding ideas from leading voices in their respective fields, and is available in both paperback and hardback, Oxford University Press, 2005. (See purchase details below)
This is an itinerary of the chapters in The Science of Well-Being:
1. Evolution and Development
Randolph Nesse
Natural selection and the elusiveness of happiness

Barry Keverne
Understanding well-being in the evolutionary context of brain development

David J.P. Barker
The developmental origins of well-being

Sonia Lupien & N Wan
Successful aging: from cell to self
2. Physiology and Neuroscience
Richard J. Davidson
Well-being and affective style

Stuart J.H. Biddle & Panteleimon Ekkekakis
Physically active lifestyle and well-being

Bernard Gesch
The potential of nutrition to promote physical and behavioural well-being
3. Psychology of Well-being
Barbara L Fredrickson
The broaden-and-build theory of positive emotions

Nick Baylis
Relationship with Reality - and its role in the well-being of young adults.

Martin E.P. Seligman, Acacia C. Parks & Tracy Steen
A balanced psychology and a full life

Daniel Kahneman & Jason Riis
Living, and Thinking About it: two perspectives on life

Felicia A Huppert
Positive mental health in individuals and populations
4. Cultural Perspectives
Susan Verducci & Howard Gardner
Good Work: Its nature, Its nurture.

Robert J. Sternberg & Elena Grigorenko
Intelligence and Culture: how culture shapes what intelligence means and the implications for a science of well-being

Antonella Delle Fave & Fausto Massimini
The relevance of subjective well-being to social policies

George Burns
Naturally happy, naturally healthy: the role of the natural environment in well-being
5. Social and Economic Considerations
John Helliwell & Robert D. Putnam
The social context of well-being

Robert Frank
Does money buy happiness?

Johan Galtung
Meeting basic needs; peace and development

Nic Marks and Hetan Shah
A well-being manifesto for a flourishing society
The Science of Well-Being (Oxford University Press) is a thoroughly detailed academic text and its back cover reads:

This landmark volume heralds the emergence of a new field of science that endeavours to understand how individuals and societies thrive and flourish, and how this new knowledge can be applied to foster happiness, health and fulfillment.
Taking a dynamic cross-disciplinary approach, it sets out to explore the most promising routes to well-being, derived from the latest research in psychology, biomedical science, social science, economics, and the effects of our natural environment. Contributions come from some of the world's leading researchers, practitioners, and policy advisors.
Designed for a general readership, this volume will be of compelling interest to all those in the social, behavioural and biomedical sciences, the caring professions, and policy makers. It provides a stimulating overview for any reader with a serious interest in the latest insights for enhancing our individual well-being and the well-being of the communities in which we all live and work.
This book costs £85 in hardback, and £35 in paperback, from the Oxford University Press and leading academic book stores.
To purchase "The Sience of Well-being" you can order by telephone: 01536-454-534 (From overseas dial: +44-1536-454-534); or email your request to bookorders.uk@oup.com
or direct from Amazon.co.uk